In-house or outsourced? That is the question.
With businesses striving more and more to improve profitability, it isn't uncommon for companies to seek creative ways to cut costs and optimize production. And no department is safe from scrutiny — even IT.
So which one is better? Read on to find out.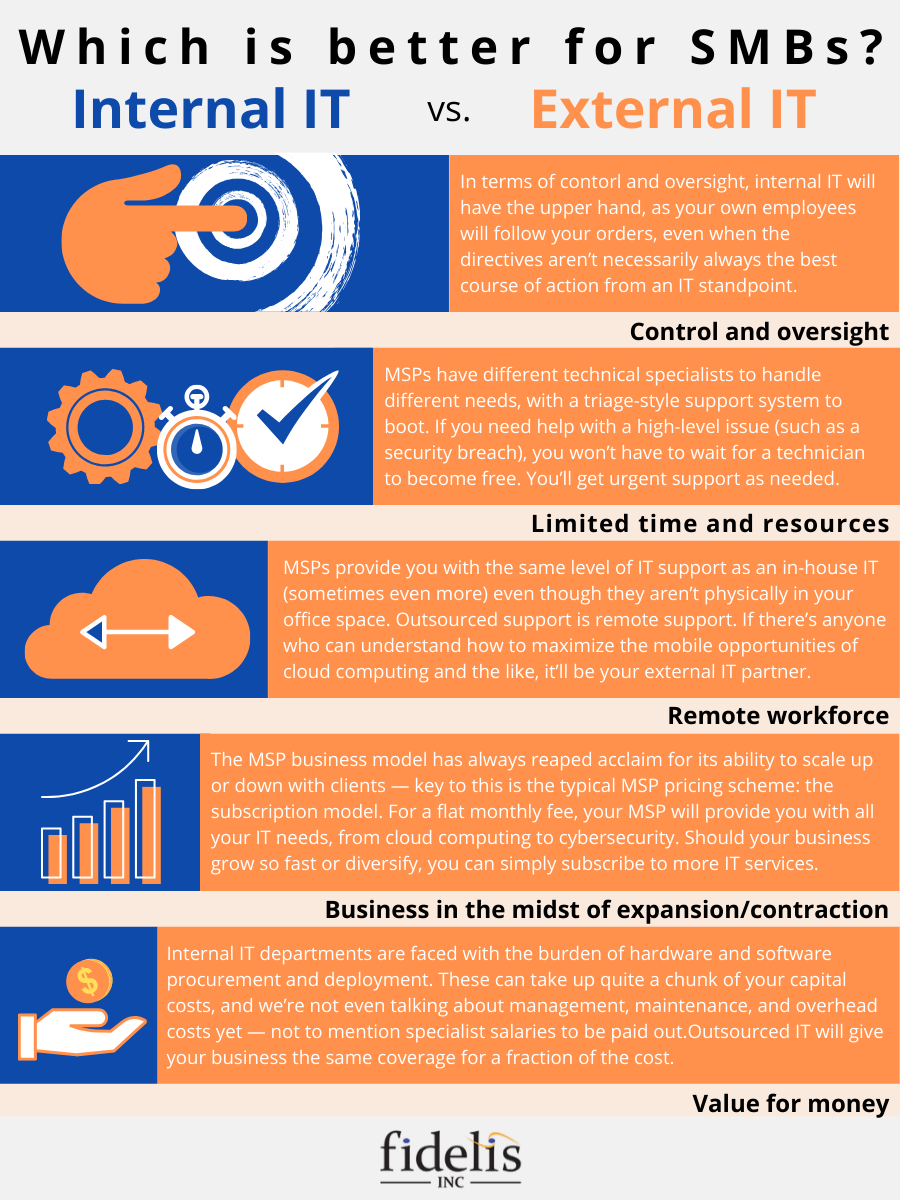 Control and oversight: Internal IT
In terms of control and oversight, internal IT will have the upper hand. Your own employees will, of course, simply follow your orders, even when the directives aren't necessarily always the best course of action from an IT standpoint. For businesses led by industry experts, this may work just fine, but that's not always the case.
That said, internal IT may have a slight edge in terms of response time and availability. After all, they're just there. So in case of something drastic like a fire in your server room or even something more mundane like receiving and vetting your hardware orders, it will pay to have in-house IT.
Limited time and resources: External IT
While internal IT may have an edge in terms of response time for many situations, external IT wins in terms of overall capability in the face of limited time and resources. Why? Because of their operational scale. Let us explain how.
The reality for small- to medium-sized businesses (SMBs) is that their in-house IT will typically be composed of a few — if they have enough resources — all-around IT staff whose job descriptions encompass pretty much anything and everything a technician does. So if you need to troubleshoot, say, your ticketing system, you may have to wait for your IT department to finish dealing with an earlier issue that they can't put down, such as assisting executives with updates and the like.
Managed IT services providers (MSPs), on the other hand, have different technical specialists to handle different needs, with a triage-style support system to boot. So you can be assured that if you need help with a high-level issue (such as a security breach), you won't have to wait for a technician to become free. You'll get urgent support as needed, when needed.
Considering managed services? Don't decide yet!
Before you skip ahead to picking and choosing which IT services you want and how they're managed, pinpoint precisely where your technology is falling behind by reading our free eBook, 20 Signs That Your Business is Ready for Managed Services.
Mobile/Remote workforce: External IT
MSPs already practice remote work. They provide you with the same level of IT support as an in-house IT (sometimes even more) even though they aren't physically in your office space. So who better to partner with than with a company whose lifeblood is to work with external partners?
Putting it succinctly, outsourced support is remote support. If there's anyone who can understand how to maximize the mobile opportunities of cloud computing and the like, it'll be your external IT partner. They'll probably provide you with solutions you didn't even know existed.
Business in the midst of expansion/contraction: External IT
The MSP business model has always reaped acclaim for its ability to scale up or down with clients — key to this is the typical MSP pricing scheme: the subscription model. For a flat monthly fee, your MSP will provide you with all your IT needs, from cloud computing to cybersecurity. Should your business grow so fast or diversify, you can simply subscribe to more IT services. It's that simple.
Value for money: External IT
There is no question: internal IT departments are more valuable than most businesses realize. IT is often the most underappreciated and most overutilized department in many companies, so it would be inappropriate to say that outsourced IT totally trumps in-house.
Pound for -pound, however, it is difficult to question how much value in services MSPs provide for the amount they charge. This is because internal IT departments are faced with the unenviable burden of hardware and software procurement and deployment. These can take up quite a chunk of your capital costs, and we're not even talking about management, maintenance, and overhead costs yet — not to mention specialist salaries to be paid out.
Outsourced IT will give your business the same coverage for a fraction of the cost. It's a great solution for businesses whose resources cannot yet justify the need for a full-sized in-house technical team.
Verdict
The overwhelming verdict is that for SMBs, managed services is the better option for top-notch IT coverage relative to cost. But don't shut down your internal IT team just yet — MSPs also work well as a hybrid solution. This way, your trusted technicians are there for your most urgent needs while your MSP covers their back. It's the best of both worlds.
Fidelis, Inc. provides Washington and Oregon with top-notch managed IT solutions. Work with IT experts who have your best interests at heart. Contact us today to learn more about our services.