With a broad range of service offerings including network and desktop management, data back-up, and business continuity, Fidelis is your ideal managed IT services partner. Our main priority is using our extensive knowledge to help you achieve your business goals.
Small, midmarket, and enterprise-level business have all benefited from our Microsoft 365 expertise. In light of our continued success, we're thrilled to announce that we've been listed among top providers and have received the Clutch award for leading IT services providers!
Located in Washington, DC, Clutch is a business-to-business ratings and reviews platform that ranks companies based on their service focus and location. Using a thorough, reliable research methodology, Clutch is able to place businesses on a Leader Matrix.
Although our offerings and ability to deliver gave us the chance to be recognized by Clutch, it's the client reviews on our profile that won us the award. Here's what two of our wonderful clients had to say about us:
"We were impressed by their communication and willingness to be available during the entire move."
"Fidelis, Inc. is by far the most professional and friendly group of people we have worked with."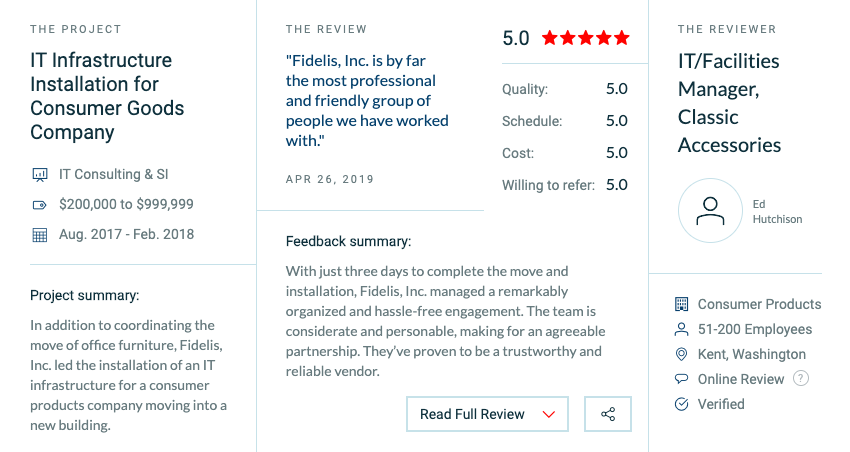 "We're honored to be featured as a top Office 365 implementation consultant on Clutch.co. As a leading Managed Service Provider in the Pacific Northwest, we're excited for the opportunity to help organizations make the transition to Office 365."
- Paul Zimmerman, CTO of Fidelis, Inc.
Thank you to our valued clients for their ongoing loyalty, a quality that we value and aim to embody ourselves. We would like to take this opportunity to also thank the team at Clutch for recognizing our top-class services. As we continue to grow, we're sticking to our commitment of putting your needs first. Check out our blog to see how we're doing this and to learn more about our industry.