Microsoft 365 has come a long way in recent years, becoming one of the most important productivity suites in the business world. Although the traditional Microsoft Office desktop applications remain as important tools that most businesses use, Microsoft's cloud-based applications and services are starting to change the way that businesses get work done.
Most Microsoft 365 subscriptions now include one terabyte of online storage per user account, thanks to integration with OneDrive. Microsoft Teams is one of the leading business communication platforms, while SharePoint Online allows businesses to build team-based websites for easily sharing important information.
These three services all work together to make it easier to share files, accommodate remote workforces, and keep data safe in the cloud. Files are, after all, one of the main ways that companies get work done and stay connected with colleagues. OneDrive has long made this possible, but a slew of new features and improvements makes file-sharing easier than ever.
Integration with Microsoft Teams
Over the past year, Microsoft Teams has become one of the most important business apps in the Microsoft 365 suite, playing a vital role in remote collaboration. Thanks to even deeper integration between Teams and OneDrive, it is now possible to sync files stored in Teams or SharePoint Online via your OneDrive client.
The files stored in Teams or SharePoint Online document libraries aren't tied to the specific user, but are rather stored at the company's 'tenant' level.
Once OneDrive is linked to these company file folders, you can work with files and folders that are synchronized with the cloud automatically, just like you would working with files that are stored in your local hard drive: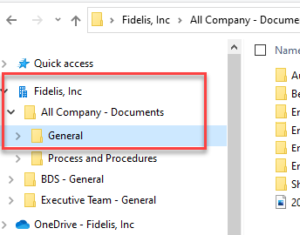 You can even make certain files or folders always available on your computer, even if you aren't connected to the Internet. This is great for when you're travelling with a laptop and working on documents offline since you can automatically synchronize back to the cloud once you're reconnected.
Business efficiency and resilience
Need to share documents or folders with others outside your organization? Both OneDrive and SharePoint Online can be configured to allow sharing with people outside your organization to collaborate on documents for a project or allow direct access to documents you create for a client.
When Office documents are stored in these cloud locations, additional features are available. Real-time co-authoring allows multiple people to edit a document at the same time, and instantly see changes from others. Documents are automatically saved with version history as well, so you can revert to previous versions if needed.
File-sharing via the Teams chat feature has never been easier. Files shared during meetings will be automatically added to the document library, while previous permissions and security settings are automatically reflected in Teams. It is also possible to share files in private chat messages, which stores the documents in the sender's OneDrive folder.
While the cloud provides many great features, it also introduces some challenges. Most businesses are familiar with how to properly backup and protect their on-premise files, but the traditional backup systems don't typically work with cloud providers. It is important to assess what data you store in the cloud, and how to best protect against data loss, whether it be accidental or intentional. Fidelis, in particular, is a managed IT services provider that can provide professional recommendations on how to best protect your cloud-stored data against risks of data loss.
Fidelis provides the full range of IT services that today's organizations need to achieve greater flexibility and efficiency without adding risk. Talk to us today to schedule a consultation.